The Library has partnered with Patchwork Films
on various projects and has provided a location
for many local film screenings.
PCFL sponsored the Patchwork Exhibit
"Do You Remember Cal Price?"
allowing the filmmakers to interview town visitors for their film project on The Pocahontas Times.
As a sponsor of Patchwork's Play and Film
"An Evening with Cal Price,"
they provided the inspiration and support
for the award-winning feature documentary
–30- Cal Price and The Pocahontas Times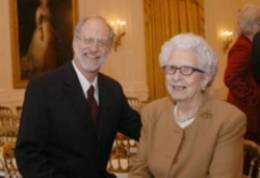 Allen Johnson, Library Director, with
Jane Price Sharp, Supporter and
Editor Emeriti of  The Pocahontas Times,
attend the Award Reception at The White House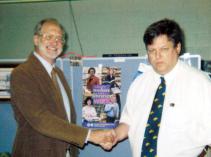 Allen Johnson, Director of PCFL
With Steve Fesenmaier of the
West Virginia Library Commission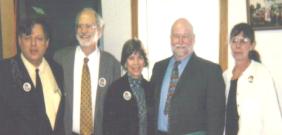 Award Presentation in Marlinton, WV
Steve Fesenmaier, WVLC
Allen Johnson, PCFL Director
Mrs. Robert Martin, Robert S. Martin, Director IMLS
B. J. Gudmundsson, Filmmaker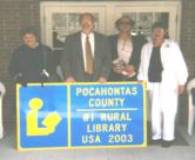 Frani Fesenmaier, Allen Johnson,
Agust and B.J. Gudmundsson
Time for a New Sign!
POCAHONTAS COUNTY, WV
#1 Rural Library
in the United States
2003
Pocahontas County Free Libraries Website