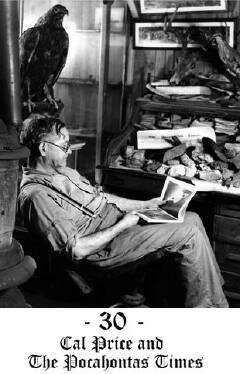 -30-
Cal Price and The Pocahontas Times
A B.J. GUDMUNDSSON FILM
Inspired by Pocahontas County Free Libraries


On January 10, 1940, America listened as Gabriel Heatter introduced a very special guest on his radio show, "We the People." Calvin W. Price, Editor of The Pocahontas Times, was the perfect choice for a typical country editor. He let it be known that he only had 3,000 subscribers, but added that he could call everyone of them by their first name.

To the people in Pocahontas County, West Virginia, he was just "Cousin Cal." To many throughout the United States he was a true conservationist. To his fellow journalists, he was a marvel.

The Pocahontas Times was the first newspaper in this rural mountain county and it is the only one surviving today. It was the last commercial publication in America to use handset type and the first newspaper in West Virginia to use computers for its entire operation. The Price Family has recorded the history of Pocahontas County's people in the pages of their paper for over 100 years.

This film is a history of mountain journalism and an exploration into the American struggle for conservation of natural resources. For some, this personal tribute will revive forgotten memories and touch the heart. For the young it will help to define who we are and remind us of what we are capable of. The story of Cal Price and his Pocahontas Times is, in and of itself, a portrait of the human experience.